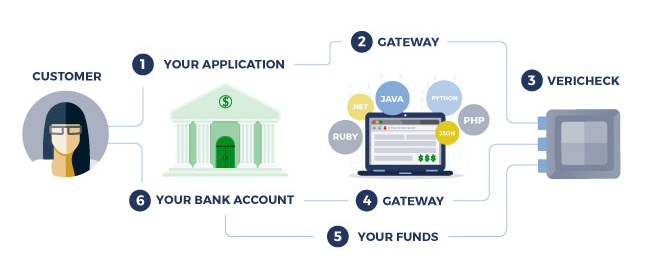 Payment Processing API for ACH and eCheck
Our API helps developers easily integrate ACH and eCheck payment processing functionality directly into their software, website, or application.
Vericheck offers the following methods of integration:
USAePay Payment Gateway
Vericheck's USAePay is a Level 1 PCI compliant payment gateway and is a state-of-the-art payment platform for processing all major credit cards and ACH transactions. It has been our gateway partner for over 15 years and has helped our clients develop innovative payment solutions using their vast array of development libraries
The Developer solutions below can accommodate any payment integration need:
VeriCheck REST API
Our REST API is provided for larger partner integrations and is a simple alternative to SOAP and WSDL-based Web services for payment functionality. RESTful systems typically communicate over HTTP with the same verbs (GET, POST, PUT, DELETE, etc.) used by web browsers to retrieve web pages and send data to remote servers.
Get Support
Do you need More Support?
Do you need more help with getting set up? Let us know and one of our developers can help you.
Get Support