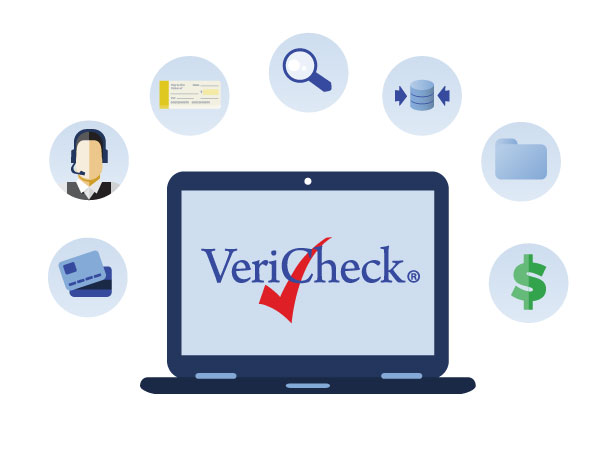 Working with VeriCheck means you have access to our comprehensive payment processing services so you can pick and choose what you want your clients to have. You'll have all of the necessary tools for a seamless integration. Plus, you'll reduce costs and time to market because there's no need to work with multiple providers.
Benefits of working with VeriCheck:
Easy payment options that attract potential customers

A "stickier" product: the more your client is involved, the longer they'll stick around

Offering ACH gives you a huge advantage over competitors that don't


An easily additional revenue stream—you'll make money for the lifetime of the client

Customer Service Access for Merchants

A Monthly Fee Settlement

A Completely web-based platform
Our reseller packages are tailored to your specific needs, no matter how large or small your organization is. We provide end-to-end ACH processing and do not involve any third parties—we are the processing source. By integrating with VeriCheck, you effectively eliminate any buy rate markups.
VeriCheck Resellers experience:
Low transaction rates—a rarity in the ACH processing industry

In-house processing for all ACH transaction types and checks


Cutting edge Remote Deposit Capture and Check 21 solutions


Check Verification tools and resources


Transactions flowing only through our company's secure, encrypted servers—never shipped off to other companies or third parties

Funds deposited directly to the merchant's account


Our own sales office tracking and monitoring all transactions in real-time


Real-time monitoring and reporting for resellers, by merchant or portfolio


Full control over dynamic real-time reporting parameters


Competitive pricing programs and reliable residual payments

As a Reseller with VeriCheck, you can:

Provide a variety of check payment solutions under your own umbrella of services


Maintain ownership of the accounts you enroll


Maintain any ongoing credit card relationship your organization might currently offer


Integrate with any software or application through our dynamic transaction API


Benefit from our ongoing relationships with our partner organizations who provide value-added products and services at our exclusive discounts, adding additional revenue streams to your business


Eliminate and/or minimize overhead costs associated with customer support or billing—we bill your organizations directly for you


Have peace of mind through our support hotline for resellers and customers

VeriCheck is among the most trusted in the payment processing industry. We are always looking for partner organizations who can benefit from a direct relationship with a dynamic end-to-end ACH processor with our 20+ years of industry experience and knowledge. Click the link below to get in touch with us about becoming a partner.