VCI Payments
VCI Payments leverages the latest technologies found in payment gateway technologies, in order to provide merchants with the most advanced and secure ACH processing methods available.
Recurring payments and electronic email invoicing are a must-have feature of any modern online payment terminal. Customize your invoices and receipts to accept payments online, or set up a recurring payments schedule to automatically bill your customers.
Reports are never an issue with VCI Payments. Our advanced custom reporting suite will allow you to quickly search, sort and identify all transaction data.
Take your payments integration to the next level with our robust API, custom fields, tokenization and Hosted Payment page capabilities.
1. Electronic Invoicing Suite
Your virtual terminal boasts a built-in electronic invoicing suite, allowing you to easily collect payments by simply sending an email to their customers. Invoices are branded, giving them a professional image while simplifying payments.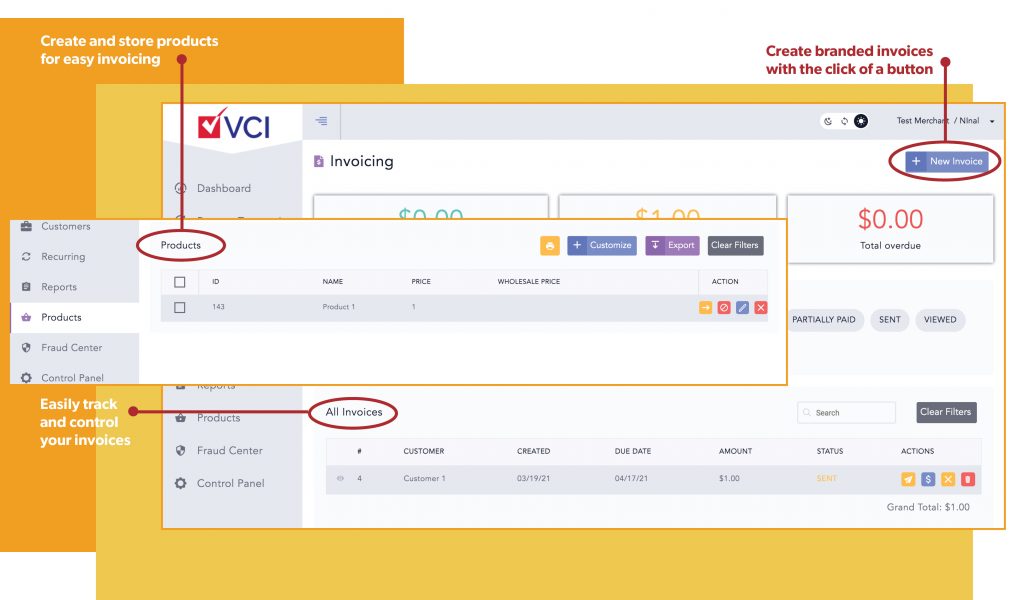 2. Recurring and Scheduled Payments
Easily create and manage any custom scheduled payments.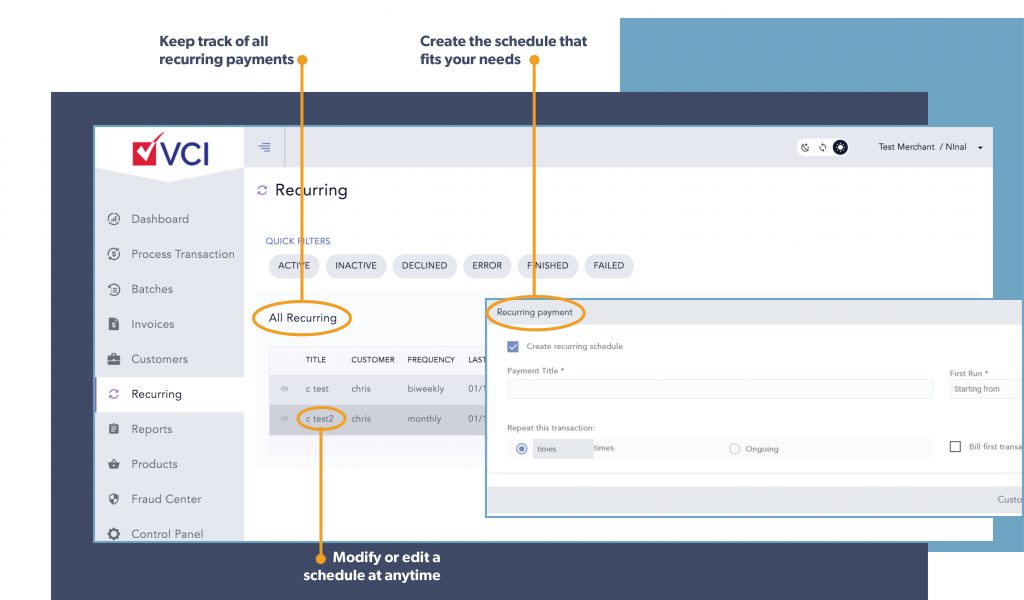 3. Secure Customer Vault
Charge, view or edit a customer's ACH and Card data with the click of a button. All the sensitive data is encrypted and secured for the protection of you and your customers.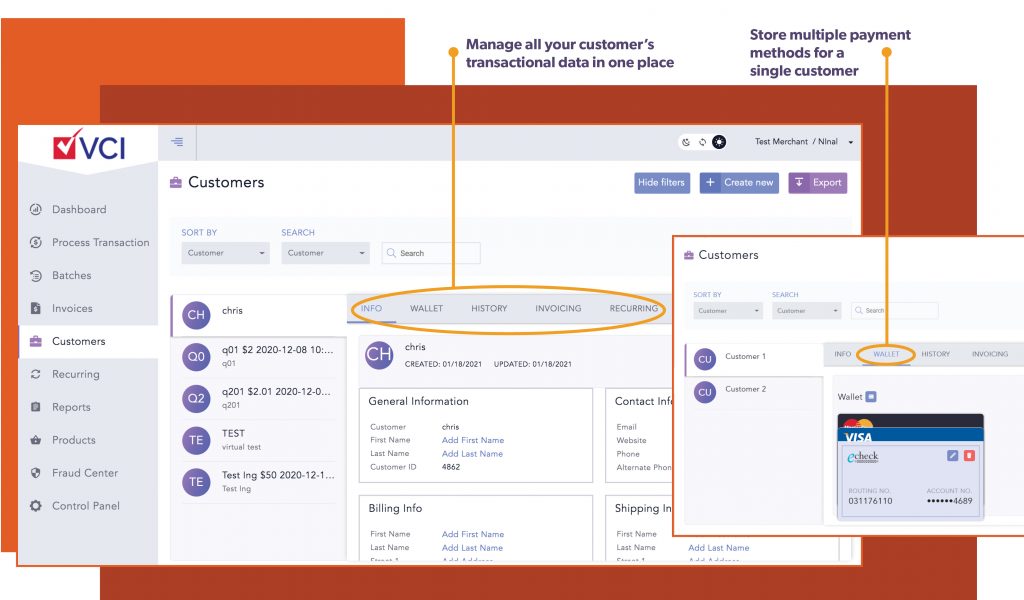 4. Reporting

VCI Payments features an advanced reporting suite allowing users to easily filter and identify the transaction data they are looking for, including ACH & Credit Card transactions as well as any and all data collected with transactions. You can sort by the payment terminal source and custom fields built around any API integration.
5. Custom User Access

Do you have an employee or two that needs limited access and certain restrictions? Merchants can easily customize the level of permissions they wish to grant users.
6. Automated Surcharge

With VCI Payments, merchants can choose to manually apply a surcharge by percentage or set dollar amount, or opt to have a surcharge automatically applied to each transaction, with no input needed.
7. Interchange Optimization

Interchange optimization is a big deal, especially for B2B merchants.
Your gateway automates the manual process of adding level 2 and 3 data to each transaction, giving merchants big savings (0.65%-1.25%) on business and corporate cards' interchange rates.
8. Cutting-Edge Fraud Protection

Block transactions based on amount, email / IP address and domain. Customize your AVS and CVV response and much more.
9. Multi-Mid Capabilities

Not every merchant is a single-location business, some have multiple locations and divisions.
Your gateway can handle that by threading multiple locations to one master account and by providing advanced filtering options in batches and reports.
10. Third-Party Integrations

VCI Payments provides solutions beyond the virtual terminal.
Speak with a team member to discover various third-party software integrations including Oracle Netsuite, Woo Commerce, Quickbooks, and many others.